50tons per 24h maize flour mill machine for Kenya market
Shijiazhuang Hongdefa Machinery Co.,Ltd is a professional manufacturer of maize flour mill machine, provide high quality machine from 500kg/h to 50ton/h with different design according to our client needs, with European technology,Kenya maize process, roll out unique and innovative maize flour mill plant. Hongdefa Machinery's flour mill machine exported to African countries,  and established long-term friendly cooperative relations with many African countries.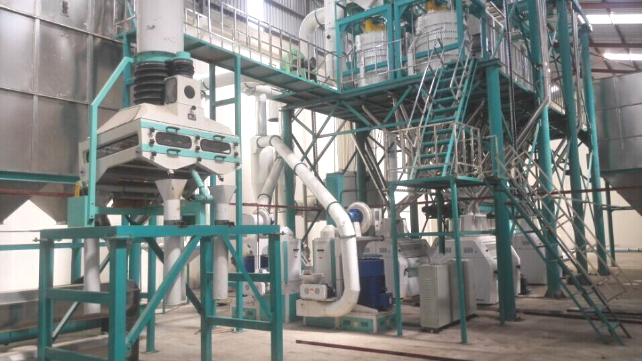 Get price and more details
For example, Kenya. There is a huge consumer market about maize flour mill machine. The reason for this is that the number of registered millers in Kenya is 103. It is estimated that the installed capacity of corn milling is 1,62-1,750,000 tons. The country's largest production capacity of 19 plants is 85-90% of total maize production capacity. And these information further strengthen our confidence in expanding our cooperation with Kenya and we have confidence in our maize flour mill machine.
Here I have some information about the 50t per 24h maize flour mill machine for Kenya to tell you.
Production capacity :50t per 24h
Size: 36M*8M*8M
Power supply: About 135kw
Warranty period:1Year
Productivity:60-90%
Responsibility:
1.seller:1)machine delivery should be on schedule
2)Chinese engineer guide installation.The Chinese engineer
should follow the law of the working place.
3)guarantee the machine quality for 1 year.
2.buyer:1)supply the water,electricity inside of the workshop.
2)supply the fork lifter, and vertical loading tools.
3)4-8 local workers to assist installation, the charges(include
salary, food etc) should be paid by the buyer.
4)afford the both way air tickets for the engineer, and
salary 1500USD/month/engineer..Supply the living place and food
for the Chinese engineer.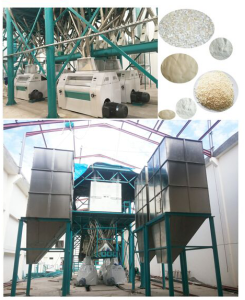 Get price and more details
For the quality of the maize flour mill machine, we have the confidence to assure you of its quality.
Maize flour processing has a strict program procedures:
Maize flour millmachine first removes impurities mixed with the corn kernels: one classifying process can sort out qualified size of corn kernels; one polishing machine can remove the impurities which adhere to the kernel surface and make kernels look more bright.
Unprocessed maize cleaning: it adopts one screening process, one stone removing process and the winnowing system to clean the big and small impurities, light impurities, pebbles and magnetic material to ensure the product quality.
Maizegrinding: smashing makes the material granularity suitable when it enters into the maize flour mill machine so as to improve grinding efficiency. The flour mill machine can grind the material into flour, then the screen separates various material. Purification can separate the fine skin and broken germs by the combined effect of screening and winnowing.
Measuring and packaging: the warehouse can reduce the amount of labour used. Measurement and packaging can be manually or electrically measured and packaged according to the actual situation.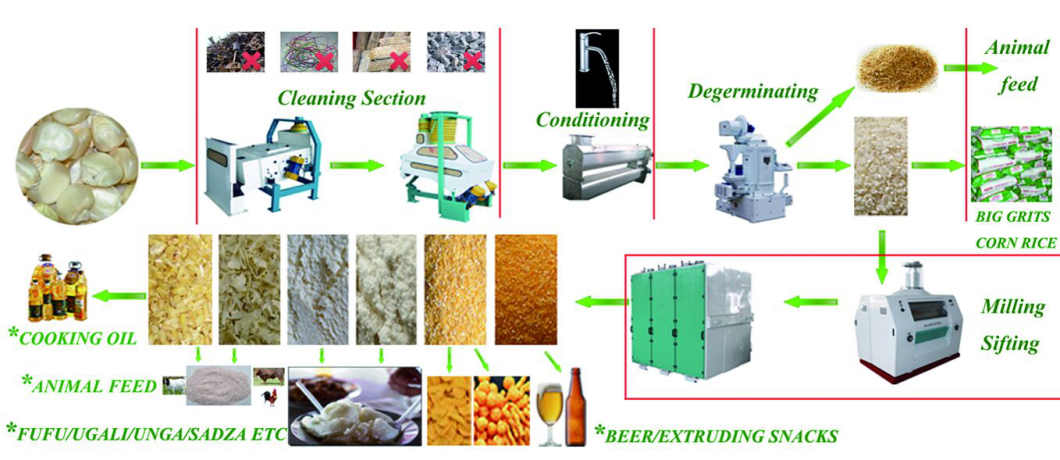 Get price and more details
For more details about the maize flour mill machine, contact me with:
Cell/WhatsApp/: +8613833461840
Or click www.maizewheatmill.org for more details and prices about maize flour mill machine.
Thanks!
Vanisa